Fashion Blogger Diaries: Itchy Dengue Rash Cover My Hands and Feet
My Dengue Diary (Part III):
Read Part 2 of My Dengue Diary: Fashion Blogger Diaries: Dengue Sucked The Life Out of Me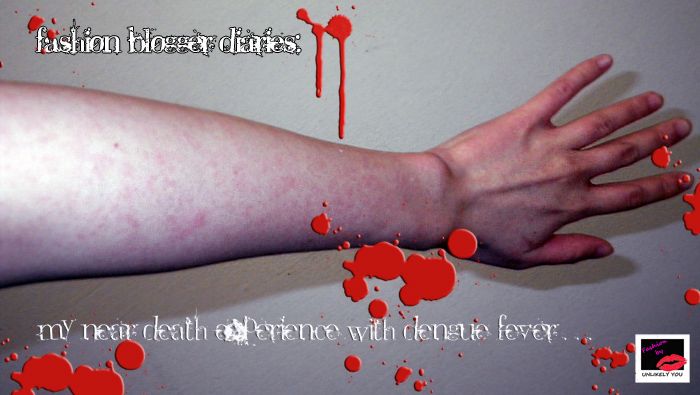 My swollen and itchy arm inflicted with rash from the dengue virus which I caught in Singapore.
A close up of my hand riddled in an itchy rash with the dengue virus living underneath my skin. There is no cure for dengue and I would have to live with the virus in my body until the day I die.
Wednesday, 10 July:

After a sleepless night,

I did more research on dengue and found out that after the fever resided and the rashes took over, I would be in the most crucial and vulnerable stage - Dengue shock syndrome (DSS) and hemorrhage - Dengue Hemorrhagic Fever (DHF) where my platelets were the lowest and I was in great danger of sustaining internal bleeding in any part of my internal organs, liver or brain and I would not have any knowledge of it until my body starts showing signs of internal bleeding (E.g. bleeding from the nose or mouth) in which at that point of time it may be too late to prevent complications and eventually death.
I went down to the polyclinic for another blood test and found that my platelets had dropped to even lower numbers than the previous test results on Monday.
After a long and hard decision, I decided to admit myself into the hospital that night. It was 9pm, I arrived at the Accident and Emergency section of Raffles Hospital and told them I had dengue. I presented by blood test results and was put on a wheelchair and IV drip immediately. They took a vial of blood for another blood test again.
I was warded immediately, feeling week and extremely itchy from the rash that had now spread all across my entire legs and arms. It looked like my blood vessels had popped, and each and every single pore on my arm and legs was filled with blood. Every inch of my skin was covered with tiny red spots. My limbs were swollen with poor blood circulation and fluid accumulation brought on by increased capillary permeability and leakage. My blood circulation was so poor that when I attempted to scratch my itchy skin, the blood would part and the patch of irritated scratched skin would remain white for a long time.
Thursday - 11 July: I did not sleep well the previous night but definitely the sleeping pills helped a bit. Groggy and tired, I was bedridden and got up only to eat and then fall back on the hospital bed feeling hot and itchy. I was not permitted to brush my teeth for fear that my gums would accidentally bleed in the process. I could not leave my drip either and had to have it with me even when I used the toilet.
My life will never be the same again as I continue to battle the dengue virus in my body..